Our Programs
A variety of horse-related activities are available through RDA SA. We currently have 9 affiliated centres. As facility and horse circumstances vary at each centre not all of these are provided at all centres in SA. As well as an enjoyable recreational activity, horse riding offers therapeutic benefits, challenges and a sense of achievement for individuals living with a disability.
The programs on offer are designed to be interesting and challenging, building upon each individual's abilities towards achieving independence and life skill goals. Groups generally consist of 5 clients, under the instruction and supervision of our qualified coaches. Clients will also be supported by additional volunteers, for example, Horse leaders, who are in charge of the horse and Side walkers, who facilitate client participation and can assist clients to carry out the coach's instruction during activities and games.
Benefits
The program benefits for each participant vary and may include some of the following attributes:
Physical and Sensory:
Improved overall fitness, endurance and physical capacity from participation in weekly exercise to improve motion, balance, muscle strength and cardiovascular conditioning.

Increased muscular and postural control. Core muscles are strengthened from learning to sit comfortably and ride with the movement of the horse.

Reduction of abnormal movement patterns and decreased spasticity through the warmth and movement of the horse and stretching tight or spastic muscles.

Stimulation of sensory processing, especially vestibular (balance) and proprioceptive (spatial orientation of the body in regards to position, motion and equilibrium) sensory systems.

Helps integration of sensory systems, sight, vision, movement, hearing, touch, vestibular and coordination.

Improvement in gross and fine motor skills.

Memory improvement and concentration
Psychological:
Experience of outdoor recreation, fresh air, enjoyment and fun.
Enriched confidence, trust and self-esteem.

Improved wellbeing, perception of quality of life and life satisfaction that comes from being active and engaging with their peers and the community.

Increased interest in one's own life and the larger world through a greater variety of experiences and setting personal challenges leading to achievement.

Improved emotional control and self-discipline from developing the patience and focus of attention that comes from working with a large animal.

A sense of achievement from being able to master the skills necessary to participate and overcoming phobias such as water, heights and animals

Social and Communication: Participants share a common love of horses and the experience of riding, which helps build socialisation and interpersonal skills.

Improved communication through feedback, following instructions, direction and communication to the horse and staff.

Development of respect, love for animals and learning about their need for welfare.
Educational:
Improved sequencing, patterning, multitasking, reading and speech though games played while on horseback e.g. Obstacle courses, pole bending.

Improved eye-hand coordination and visual and spatial perception.

Increased ability to differentiate significant from less significant stimuli in the environment e.g. Attend to the horse and those things that influence the horse and not the environment in general.

Increased technical competence in horse riding and equestrian skills.

Applied equestrian knowledge and practice safe behaviors for riding.

Learning the value of Rules, e.g. safety and discipline
To find out more about Specific RDA programs, click on the drop down boxes below.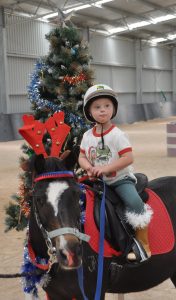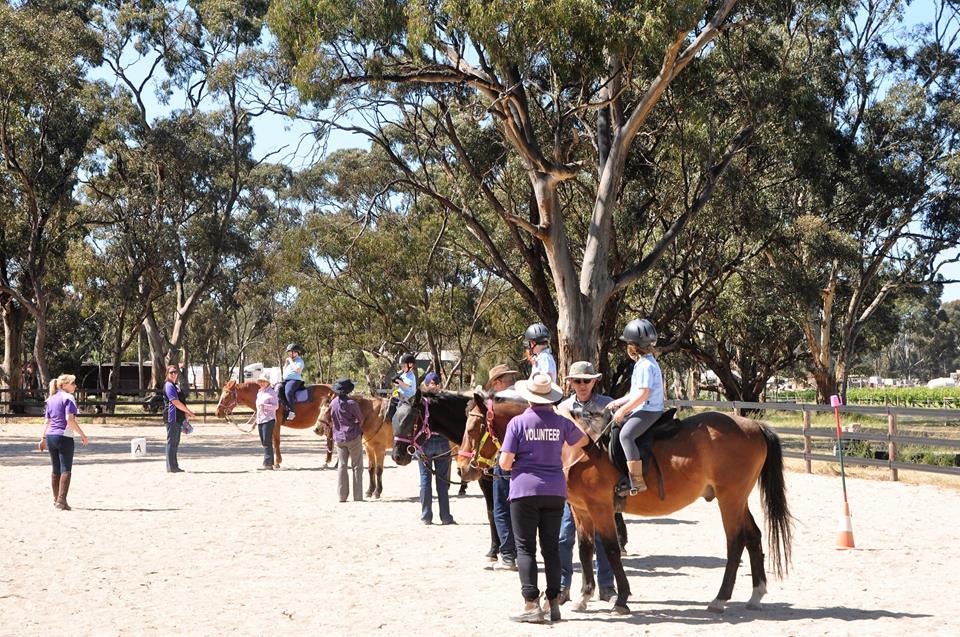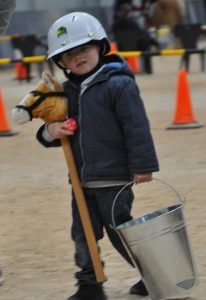 Riding Program
Horse riding as beneficial therapy was first recognised 3,000 years ago. For many people it is is also a fun activity. Therefore horse riding is a good way for people with disabilities to receive positive therapy at the same time as participating in an enjoyable recreational activity.
Further recognised benefits from riding include:
Improved balance and posture

promotes decision making and thinking ahead

sequencing of actions can be taught

clinical exercises executed in different and pleasant surroundings

new mobility and access to new areas

learning a skill that many able bodied do not have

opportunity for competition
Riding activities that are taught in lessons may include some or all the following:
Mounted Games
Games are a fun way for riders to learn new skills involving hand-eye co-ordination, balance, teamwork and confidence. Games include versions of those done at Pony Club, party favourites, children's games and anything that the imagination can come up with.
RDA SA runs an annual Mounted Games competition to encourage riders from different centres to mix with each other and compete.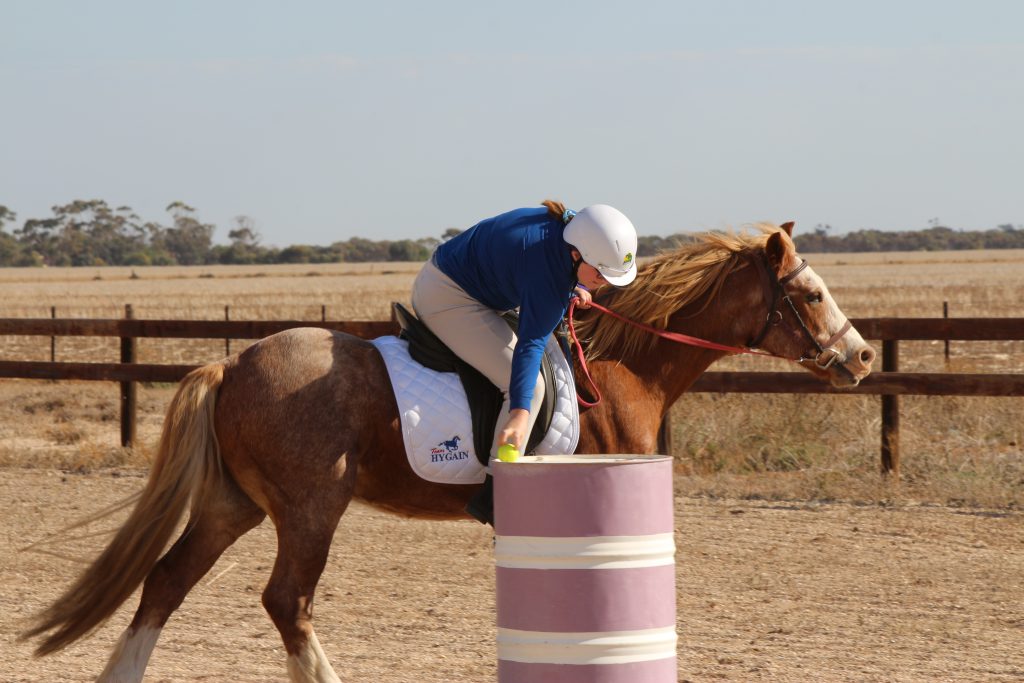 Dressage
Dressage essentially focuses on developing a rider's abilities to control their horse and work with it to achieve increasingly difficult maneuvers. In dressage you perform a series of maneuvers in a pre determined order at pre defined markers. In competition you would scored on your accuracy of the movements and the harmony of the horse. Dressage offers something for every rider. It may be used to test a participants memory and is also a great tool for riders that want to set themself a challenge and measure their progress in incremental steps.
In competition terms, RDA SA riders typically would aim to ride at the RDA SA state dressage championships. For the past few years these have been held in the indoor arena at Mallala Indoor Equestrian Centre. This gives riders – and RDA horses – a taste of riding under national conditions, which require experience in an indoor setting.
Riders may choose to ride with someone leading – but not controlling  – their horse. More confident riders will compete unled, starting with simple walk, or walk-trot tests.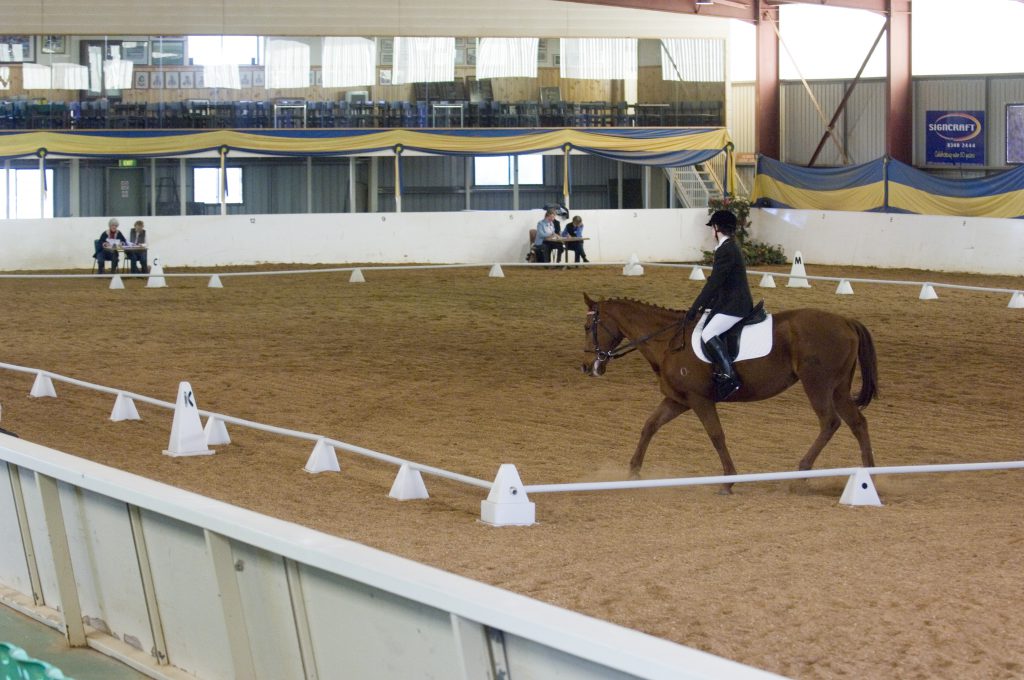 Show jumping
Jumping and polework is good for teaching participants planning, accuracy and testing their memory. 
RDA coaches are qualified to teach basic jumping as a riding skill and pole designs, but not for competition.  Only few RDA coaches have the qualification to teach jumping. Few RDA horses are also suited to competitive show jumping. For this reason RDA SA does not currently have any competitive show jumping opportunities. 
Any riders wishing to compete in show jumping events are encouraged to seek private coaching from qualified EA (Equestrian Australia) or Pony Club show jumping coaches.
Riders at this skill level are also encouraged to consider horse-ownership in their own right, due to the training requirements and specialised nature of the horses involved.

Recreation, Fun and Exercise
Just come and enjoy a friendly atmosphere and socialiase with no added pressure.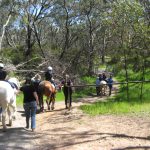 Vaulting
Vaulting is currently not available in SA.
Driving Program
Some RDA SA centres provide carriage driving. It is particularly beneficial for people for whom horse riding is not advisable; for example, people with fragile bones, severe arthritis.
Carriages are specially designed (and locally made) to accommodate wheelchairs.
A volunteer can apply to become an RDA qualified Whip (driver).  The Whip is responsible for all driving sessions under their supervision, just like a coach is responsible for all riding sessions under their control.  They must also have a current Senior First Aid certificate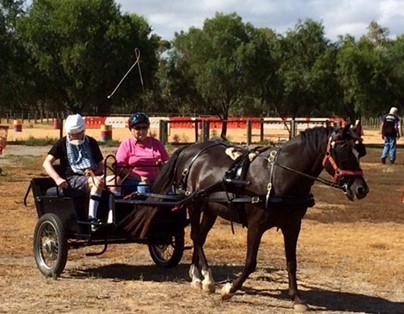 Ground Work and Horse Care
 The ground work program is similar principles applied as per the ridden program but it is unmounted. This program also has more emphasis on horse care such as rugging, feeding, grooming, putting saddlery on and health. Games may still also be incorporated where by participants may lead their horse instead.
The ridden program may also incorporate aspects of the ground program on days where it is deemed unsafe to ride such as weather conditions.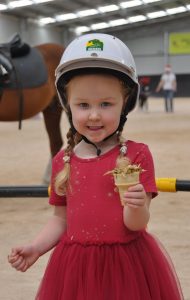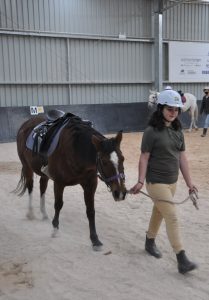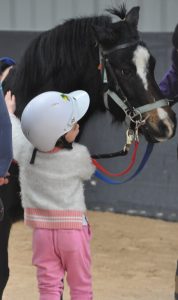 Competition
RDA offers a variety of competition opportunities for participants. Several riders have competed at National level for many years, and some have also ridden overseas, representing Australia in international competitions.
The pathway is as follows:
Internal: An RDA centre hosts its own competition. They may choose to open the event and invite participants from other centres or keep it closed to its clients only.
State Events: The state hosts an event which is open to all its participants at each centre. Participation may be based on the participants centre's ability to provide assistance with coaching, horses and transport. RDA SA typically hosts 1 dressage and 1 mounted games competition. The Dressage event is usually held at Mallala and the Mounted Games at one of the Metro Centres.
National: RDA Australia typically holds a competition every two years for athletes in Australia. States are invited to submit a team and there are also some limited opportunities for individuals.
Special Olympics: This may be held at a local, interstate, national or international arena. Participants must have an intellectual disability. The events are run by Special Olympics but often hosted by RDA.
International: Currently RDA participates in the Hope Cup which is held in Taiwan every two years.
RDA riders are encouraged to take part in Dressage competitions, not only at RDA level, but also in open competition.
Our Horses
RDA SA riding and driving programs would not exist without special horses and ponies.
We prefer to use middle aged (11+ years) horses & ponies in our programs as they are more likely to be calm and relaxed.  We also want horses to be conformationally sound, with rhythmic, regular movement.
Generally RDA SA needs horses between 12 and 16 hands high, and both wide and narrow horses have their uses within the program. Horses used at a given centre will tend to be determined by the clients currently being serviced.
Typically horses used in the program are owned (purchase or donation) by RDA SA or leased by the centre. Suitable horses are purchased from centre funds.
All horses and ponies are trialed for one month to assess their suitability before they are integrated into the program. Horses undergo regular training and exercise in order to keep them strong and and in a good mental state.
At the end of their days with RDA SA we try to find our horses a retirement home; many return to previous owners.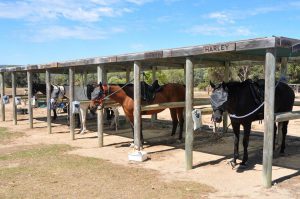 RDA SA Session Costings and Overview:
RDA sessions are generally offered on a weekly basis and are conducted in line with the SA School terms.
Fees associated with RDA sessions comprise several components:
Personal costs (ie those not generally covered by NDIS):
The current annual registration fee of

 

$100.00

, t

his component is to be paid in full upon registration.
An Activity Fee of

 

$20

 

per session. This component is invoiced by the local Centre and payable as the NDIA recognises RDA as an optional program, rather than a required therapy, and therefore expects a client contribution.

Please note – Some of our self-managed clients, and a few who have plan manager managed plans, are now able to claim the Activity Fee from their NDIS plan. If you are unsure of your options for this, please check with NDIS or your plan manager.
Costs which may be met by an NDIS plan:
A *Session Support Fee for weekday activities, as of 1 July 2023, scheduled at

 

$66.45

 

per hour session. (RDA is an NDIS Temporary Transformation Payment (TTP) eligible provider and Support Fees are aligned to TTP pricing).
        *If this support fee is not covered by NDIS, or another funding body, it must be paid by the individual accessing the service.  
RDA SA services have been categorised as recreational activities and NDIS funds for our programs are allocated under the line item:
Assistance to access community, social and recreational activities for weekday supports (04_104_0125_6_1_T)
RDA SA provides all support necessary for each session and, on approval, claims from NDIS, scheduled costs for a single weekday session support, ($66.45), up to a maximum of 40 sessions per year. Also charged to the client's NDIS plan, are up to 4 hours in each plan period, for the purpose of documenting proposed supports and outcomes. This helps plan progress and record developments and is charged at the then current NDIS support fee.
RDA clients generally participate across the whole year using funds from their NDIS Core Budget allocation to cover the associated Support Fee.
Please note:  As RDASA does not employ registered therapists, we are unable to directly access funds from a Capacity Building budget
" RDA is amazing, it's her main physiotherapy and combines her strength , speech, socialisation and confidence all at once. She just wasn't interested in doing other therapies."