Services Offered
Horse riding and Unmounted Horsemanship
Session Times
Monday 9am – 12:30pm
Saturday 10am – 11am
Address
Corner of Anzac Road and Gerald Street, Port Pirie West.
Contact details
Coach – Joan Lemmon
Ph: 8633 1646
Secretary -Mary Bateman
Ph: 0408 334 086
Email: ptpirie@rdasa.org.au
More about our Port Pirie Centre
Our Port Pirie Centre has been running for 13 years. In this time they have supported 150 clients to enjoy the recreational sport of horse riding.
We are always looking for new volunteers, so get in contact with Joan or Mary if you want to get involved with the Port Pirie Riding for the Disabled Centre.
Volunteers needed for not only in the program, but in maintenance, horse care, gardening, publicity, and fundraising.
Volunteers who want to extend their responsibilities are encouraged to become a Coach, if this is something you are interested in contact Joan.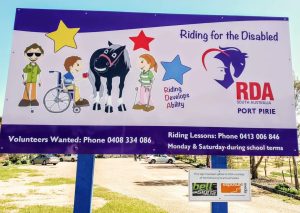 (RDA Level 2 Riding Coach & Assessor)
Now in my 32nd year of coaching with RDA, beginning with founding the Whyalla Centre in conjunction with the Special School in 1991.  I previously also held a Level 1 Carriage Driving Coach (lapsed) and have been a presenter at several State Coaching Workshops and individual centres.
I enjoy travelling and for 10 of these years I travelled around Australia with my husband, we were known as the Silver Brumbies and visited centres in many States.  I helped in the establishment/reestablishment of centres in at least 5 States, as well as mentoring, training, assessing many Coaches.